Eggplant Alla Parmiggiana
From Coup de Pouce. This is something I plan to do next weekend.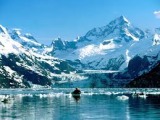 I'm in love. With this recipe, that is. It's a super easy recipe and absolutley delicious. I love that it is pretty healthy, too...compared to the real cheesy version. As I'm writing this review, I'm trying to stop myself from serving myself a 3rd serving! This is going into my Best of the Best Cookbook for 2011. Since it's winter, I skipped the basil and instead used a marinara sauce made with basil. This recipe rocks!
In a small bowl not too deep, mix breadcrumb, parmesan and oregano. Put the flour in another bowl not too deep and the eggs in another one. Dip the slices of eggplant in the flour, flipping them to coat well (shake the excess of flour). Then, soak in beaten eggs, then in the breadcrumbs.
Put slices of eggplant on a baking sheet that has greased foil paper. Sprinkle with oil. Cook in a preheated oven of 400 F for 15 to 18 minutes or until softened and golden/crispy (flip at mid-cooking). When ready to serve, put a little bit of warm marinara sauce. Sprinkle with basil and parmesan, if wanted.