Lawsome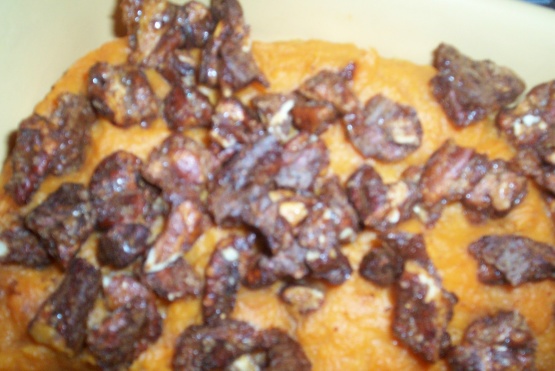 I found this recipe by Lisa Renshaw in Cooks Illustrated Magazine. I know my family is going to love this!

As my family is much more fond of pecans than cashews, I substituted pecans. That was the only change I made. I received many compliments, saying it was delicious. Personally, I don't know how much I liked the flavor, too orangey? The texture was good - they were light and fluffy!
Adjust oven rack to middle position and preheat oven to 300* F.
Line a baking sheet with parchment paper.
Toss egg white with toasted nuts in a bowl.
In a medium bowl, mix 2 tablespoons brown sugar with cinnamon.
Stir nut mixture into cinnamon mixture, spread on baking sheet, and bake until hardened and candy-like, about 30 minutes.
Allow mixture to cool completely, then crumble into small pieces. (Topping can be stored in airtight container up to 5 days.).
Steam sweet potatoes in steamer basket set in large covered suacepan with 1 inch of boiling water until tender, about 20 minutes. Drain.
Using electric mixer on medium speed, beat heavy cream in large bowl until stiff peaks form, and transfer to medium bowl.
Beat sweet potatoes in the now-empty bowl until very smooth. Beat in butter, remaining 2 tablespoons brown sugar, eggnog, zest, juice, nutmeg, and salt.
Fold in whipped cream, transfer to serving bowl, top with the praline mixture, and serve.