Lainey39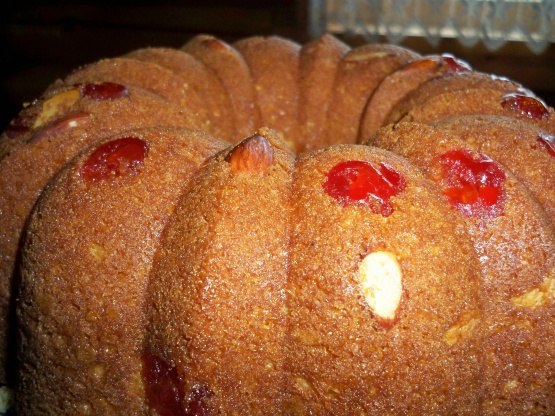 This recipe came from Pat Dyer. She made this for Christmas office parties.

Another night of insomnia so I started this at 5 am this morning,lol. My eggnog has been used up and I have a sense of accomplishment as well as a desire to go back to bed. I skipped the nuts as this is for DH (I've yet to find a sugar free cake mix in Canada) and he hates nuts. For the cherries I alternated red and green as a last homage to Christmas past. The cake looks lovely and came out of the pan beautifully. DH had a slice with coffee a bit ago and put up a hand with 5 fingers extended with his mouth full (it's now 10am). Thanks Lynn for keeping DH's mouth closed and happy for awhile.
2

tablespoons butter, softened
1⁄2 cup almonds, whole
1⁄4-1⁄2 cup candied cherry
18 1⁄4 ounces yellow cake mix
1 1⁄2 cups eggnog
1⁄2 teaspoon nutmeg

2

eggs

2

tablespoons rum or 1⁄4 teaspoon rum flavoring
Generously grease a bundt pan or 10" tube pan with soft margarine or butter.
Press whole almonds and candied cherries against buttered sides and bottom, making a pretty pattern or design on pan.
Dust lightly with flour. Set pan aside.
In a large mixing bowl, combine cake mix, nutmeg, eggs, eggnog, melted butter and rum.
Beat until smooth, about 4 minutes with an electric mixer on medium speed.
Pour batter into decorated pan.
Bake in preheated oven @ 350°F for 45- 55 minutes, until toothpick comes out clean.
Let cool in pan 10 minutes. Invert on rack and cool thoroughly.