Eggnog .... Not Just for Holidays!
Kim D.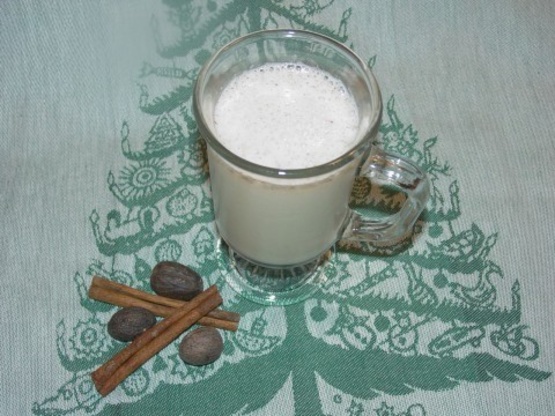 This is a light, fluffy Egg Nog drink that we serve for any occasion, not just Holidays. It's easy to make, and my friends all request it, your friends will think you are wonderful for making home-made! I recommend using Kittencal's Kittencal's Homemade Vanilla for home made vanilla, quite yummy! Can be made with or without the liquor. This is from the Company's Coming cookbook.

I made this up this afternoon and gave it a quick taste before its overnight stay in the fridge. There is too much vanilla and it is too sweet for our palates. We will get through this batch but next time I will cut the vanilla and sugar by half and increase it if needed. I also used 6 cups 2% milk and 3 cups half and half.
Using a large mixing bowl beat eggs until very light and lemon coloured.
Gradually beat in sugar, salt, cinnamon and vanilla.
Stir in milk, using larger container if neccessary.
Add liquor to taste.
Refrigerate 24 hours before serving.
To serve, run through a blender to foam up.
To store keep covered in refrigerator up to 4 days.
Strength may be adjusted by adding more or less liquor, or more or less milk.
Garnish with nutmeg and serve in a pretty glass.