Eggnog Muffins With Nutmeg-Streusel Topping
Katzen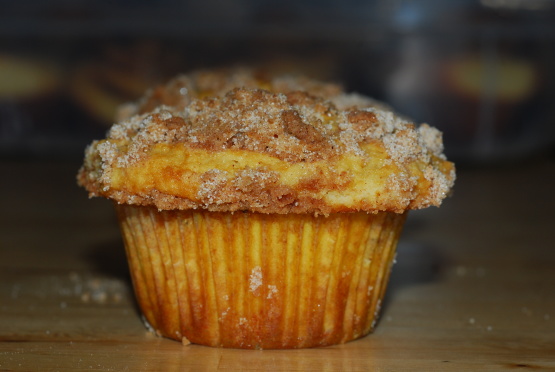 My mom passed on this recipe clipped from Midwest Living that she received from a friend. The original recipe recommends serving it warm, but we enjoyed them both warm and at room temperature.

Top Review by Katzen
Absolutely lovely muffins, Starry! I did add a 3/4 tsp of cinnamon to the topping, and instead of rum extract, used Princess Cake Emulsion (my audience doesn't drink, and although my rum extract is non-alcoholic, I wasn't sure how the flavour would go over.) These are so pretty and moist! I honestly thought I was puttin on too much topping, but because of how they rise, it was perfect! Thanks for the great recipe! Made for Veggie Swap.
Prepare a muffin tin with paper liners or grease each cup.
Mix together flour, sugar, baking powder, and nutmeg in one bowl.
In a second bowl, mix the eggs, eggnog, melted butter, vanilla, and rum extract.
Pour the wet ingredients into the dry ingredients. Stir until combined and dough is just moistened.
Fill each cup 2/3 of the way full with the muffin batter.
Preheat oven to 375°F.
Prepare streusel topping by combining the flour, sugar, and nutmeg. Cut in the butter until coarse crumbs are formed.
Sprinkle each cup with streusel.
Bake 18-20 minutes, or until a pick comes out clean.