lazyme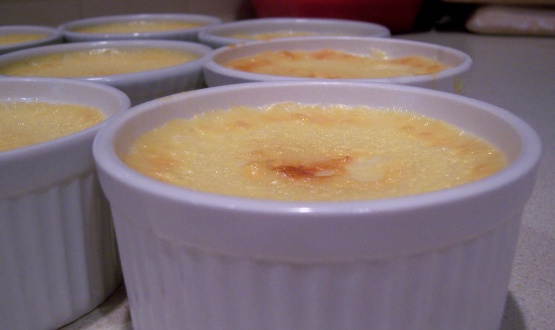 I posted this in response to a request on the boards. The original recipe doesn't say how many servings, but I would guess 8, but it would depend upon the size of your custard cups.

I made this recipe because I bought way too much egg nog for the holidays. Sorry to say my family did not like it - because my kids don't like egg nog and my husband doesn't care for pudding like things. I happen to like custard and thought it was very good and easy!! I sprinkled a bit of nutmeg on top for an extra touch.
Preheat oven to 350°.
Beat eggs using an electric mixer.
Gradually add eggnog while continuing to beat mixture.
Pour mixture into buttered custard cups.
Place custard cups in a pan of hot water about halfway up the side.
Bake 30 minutes or until knife inserted in the custard comes out clean.