Eggnog Coffee (Non-Alcoholic)
megs_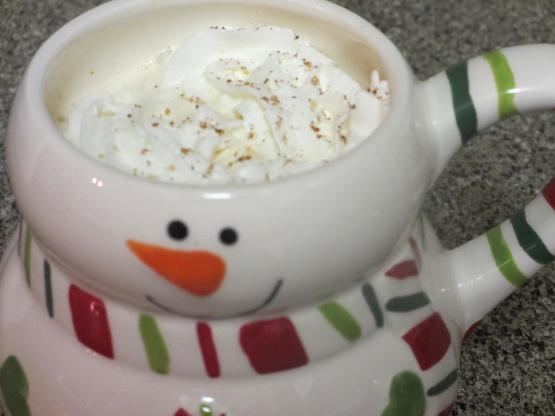 A great way to use that eggnog! Don't ya just love the holidays?

No more Starbucks holiday coffee for me! This is just as good and probably less sugary. In addition to the nutmeg, I added cinnamon and cloves to the grounds. I also put the eggnog and sugar directly in the bottom of the coffee pot instead of heating it as LongHornMama suggested. I quartered the recipe since I made it just for me. I didn't have whipped topping but I look forward to putting whipped cream on it next time...
Place coffee in filter in brew basket of coffee maker; sprinkle with nutmeg.
Place sugar in empty pot of coffee maker.
Add 2-1/2 cups cold water to coffee maker; brew.
When brewing is complete, stir in eggnog.
Pour into 4 cups.
Serve immediately, topped with dollops of the whipped topping.
Sprinkle lightly with additional nutmeg, if desired. Enjoy!