paagiela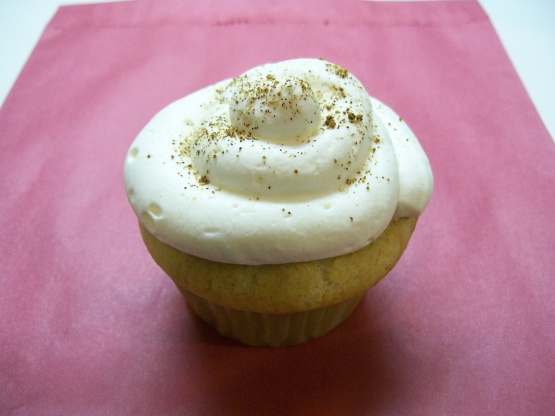 This is a very flavorful cake that is easy to make. A fluffy white frosting is the best for this cake, mmmmm good!!

I've died and gone to Holiday Heaven! I love the holiday season and look forward to this time of the year because of the spices and the pumpkin and eggnog flavors that come out. I love anything eggnog: ice cream, gelato, Starbucks coffee. I once tried an eggnog cake at a party last year so I decided to look for a recipe. There are many different recipes out there and not very many rated. So I tried this one based on ingredients (wanted it from scratch, not from a box). It was so easy because you mix everything all at once. You HAVE TO use the rum extract! It's what makes this cake! It was my first time ever using it but when I first opened the bottle and smelled it I knew that this cake was going to satisfy my eggnog craving. I was quite excited to finally try it. I actually made 12 cupcakes and 24 minis instead of a round cake. I baked the big ones for 20 min and the minis for about 12 min. I don't know what white cream fluff is that the poster suggested so I used my favorite topping: "Never Weep" Whipped Cream #74805 and sprinkled a little pumpkin spice on top of that. Oh my these were soooo good! If you like eggnog flavor you'll love this cake.
Heat oven to 350F Grease and flour 2 round layer pans, 8 or 9-inch .
Combine all ingredients in large mixer bowl. Blend on low speed for 30 seconds, scraping side and bottom of bowl.
Beat 3 minutes on medium speed, scraping bowl frequently.
Pour into prepared pans. Bake 35-40 minutes or until wooden pick inserted in center comes out clean.
Cool, fill and frost with a Cream Fluff Frosting.