Megan V.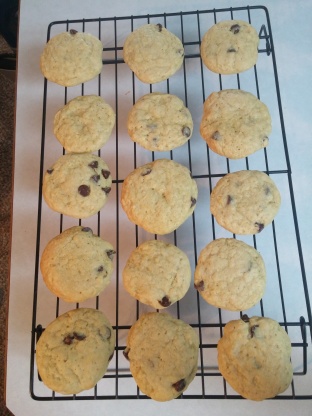 I love making homemade angel food cakes and meringues, but unfortunately hate the waste of egg yolks. Recently, my range decided not to cooperate on my daughter's birthday, so I attempted three times in one day to make her 'promised' angel food cake...resulting in 36 egg yolks left over...YIKES! I made a ton of my Homemade Neverfail Egg Noodles, but I could only stand to have so many noodles made ahead, so I was on a mission. This is the recipe I found, then modified, from one of my Open Line Cookbooks (a radio station recipe program I loved listening to with Mom as a young girl). The recipe does not require chilling prior to rolling and baking, but I prefer to anyway, and in between cookie sheets. I like to double this recipe, as well as most cookie recipes to be quite honest. I think this would also work well pressed out as a cookie dough for a dessert pizza, although I haven't tried that yet. I have also used frozen egg yolks with great success, so there is no need to take on both an angel food cake project or meringue project and cookies in the same day. These also freeze well after baking; I haven't tried freezing them before baking yet. I hope you find this recipe as useful as I do!

Great way to use up left-over egg yolks. These cookies are very good. I had five egg yolks in the freezer and added one fresh yolk (froze the white for use later on). I did not have the extracts but since we love ginger I used three dessert spoons ginger syrup and four teaspoons ginger powder. (no, they were not too gingery at all). Furthermore I used 1/2 cup butter and 1/2 cup margarine and since I discovered that I was almost out of flour I used two cups flour and 1/2 cup quick-cooking rolled oats. I got 52 cookies and they baked for almost 11 minutes. The cookies were crisp around the edge and nice and soft in the center. In short, delicious. Thanks for posting.
Cream butter and sugar until fluffy.
Separately, beat egg yolks and add extracts.
Add beaten egg yolk mixture to creamed butter and sugar.
Blend well.
In a separate bowl, whisk together dry ingredients (flour, baking soda and cream of tartar).
Add dry ingredients to creamed butter, sugar and egg mixture, mixing until well blended.
Form into balls about the size of a walnut.
Roll balls in sugar, place on greased cookie sheet or parchment lined cookie sheet, and slightly flatten.
Bake at 350 degrees F for 8 to 10 minutes, depending on desired softness/crispness.