diner524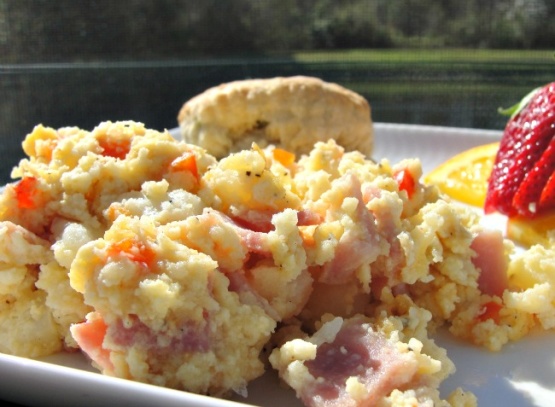 A Taste of Home Recipe, this sounds like a nice special-occasion breakfast or brunch. Not to hard but warm and hearty and serves plenty but should be easy to cut back on size.
Delicious one pan meal!! I microwaved my potatoes for about 4 minutes on high and then added them to the peppers and onions. I only made 1/8 of the recipe, 1-2 servings, and served it with biscuits and fresh fruit. Thanks for sharing the recipe. Made for Holiday Tag Game.
Place potatoes in a small saucepan and cover with water. Bring to a boil, Reduce heat; cover and simmer for 10-15 minutes or until tender, Drain.
In large skillet, saute half of the peppers and onion in 1 teaspoon oil until tender.
Add half of the ham and potatoes, saute 2-3 minutes longer.
Meanwhile, in a blender, combine eggs, sour cream, milk, onion salt, garlic salt and pepper. Cover and process until smooth.
Pour half over vegetable mixture; cook and stir over medium heat until eggs are completely set.
Sprinkle with 1 cup of cheese.
Repeat with remaining ingredients.