Parsley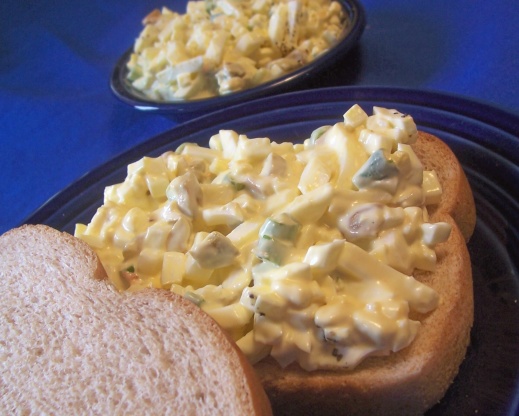 I was challenged to an Egg Salad "Cook Off" by another Zaar chef. So here is my recipe. It's a little saucy so if you want it less saucy just add less of the Mayo and olive juice. You can eat this on crackers or as a sandwich. It's very easy to make. Since olive juice has salt in it, I did not add more salt to the recipe. I have a sensitivity to pepper so I did not add that either. You can add both if you want to. Prep time includes the time for boiling the eggs. Cook time is refrigeration time. Times are approximate.

I love egg salad and am always looking for new ways/tastes of making it. This was indeed with a twist, the horseradish was very nice, gave it just that little zing. Made it just as stated and would perhaps even add a little more horseradish next time. Made for PAC Spring '08. Thanks for posting.
For best results in making the eggs easier to peel follow these instructions:.
Place the eggs in a small saucepan and cover with cold water.
Place the pan on the stove and bring to a boil.
As soon as the water comes to a boil remove it from the burner and set it aside.
Let the eggs sit in the pan of water for 10 minutes.
Drain water from the pan and put ice cubes on the eggs.
Fill with cold water and let the eggs set until cool enough to handle.
Crack and peel eggs under cold running water and place in a bowl.
Chop the eggs.
Add the chopped green onions and olives and mix well.
In a small bowl or cup, mix the Mayo, horseradish sauce and olive juice.
Pour over the egg mixture and mix well.
Refrigerate for one hour before serving to allow the flavors to meld together.
Serve on crackers or as a sandwich.