Derf2440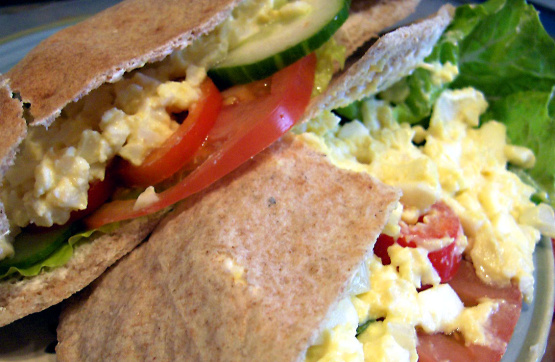 Tasty crunchy lunch! This is DH's recipe, I have been off my feet for the past week and he "threw this together" for lunch one day, it's really good! I was only able to get photos of this meal, he spoiled me, made meals all week while I was down. (Time does not include boiling the eggs.)

Yummy combination of ingredients. I cut this in half for us, used full fat mayo and cream cheese and plain pitas. Also, only had plain horseradish. But these are minor adjustments. The cream cheese kept the filling from seeping through, a good thing. I made one of the sandwiches as instructed. For the second one, I chopped up the veggies, and layered them with the egg salad (a spoonful of salad, sprinkle with veggies, more salad, etc). Found the second one a little easier to eat. Made for Cook-A-Thon in honor of Derf.
Fork mash eggs in a bowl, add onion, horseradish, Worcestershire sauce, mayonnaise, pepper; mix well.
Open pita bread to make a pocket, spread cream cheese inside on both sides.
Lay lettuce leaves on bottom, over cream cheese, top with tomato, red pepper and cucumber slices. Spread 1/4 of egg salad in each pita half on top of slices. Add more seasoning if you wish and press together to close.