Egg Salad Club Sandwiches (Or Shrimp Salad Club)
loof751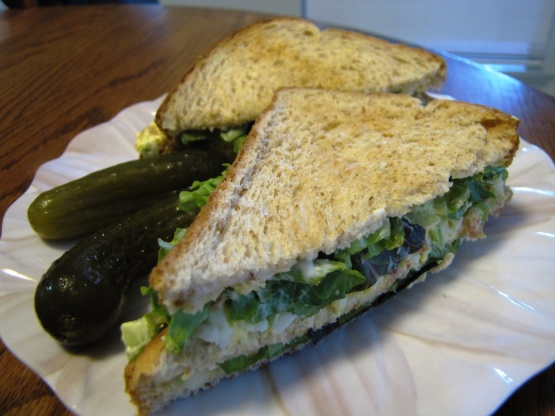 Adapted from Southern Living. To make a checkerboard effect, use both white and wheat breads.

Nummy egg salad!! We didn't add celery. Made for I Recommend.
Stir together 1/3 cup mayonnaise and next 7 ingredients.
Spread remaining 1/3 cup mayonnaise evenly over 1 side of each bread slice. Spread 4 bread slices, mayonnaise side up, evenly with half of egg salad. Top evenly with half of spinach or lettuce and 4 bread slices.
Repeat procedure with remaining egg salad, spinach, and bread slices. Cut each sandwich into quarters.
Alternative Shrimp Salad:.
Shrimp-Egg Salad Club: Omit bacon. Add 2/3 cup finely chopped boiled shrimp, 1/2 teaspoon grated lemon rind, and 1/4 teaspoon ground red pepper. Proceed with recipe as directed.