Egg Rolls With Peanut Dipping Sauce
Pamela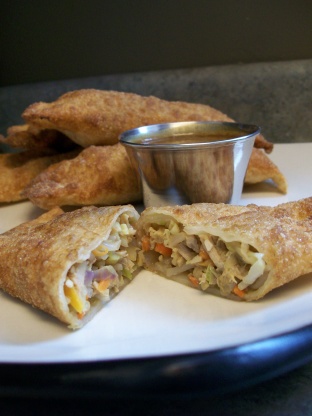 You won't believe how simple it is to make your own delicious restaurant-quality egg rolls! HINTS: Cutting very small pieces of pork tenderloin is quick and easy when the meat is partially frozen. Or leave the pork out for vegetarian egg rolls. Commercially prepared shoestring or matchstick carrots along with coleslaw mix may be used to really speed things up! Created expressly for RSC #9.

Top Review by Pamela
Awesome! I LOVE homemade egg rolls-so much better than store bought-and this was the first recipe that I added to my "gotta try" collection, but I had to wait until I had a bit of time to make these. These were a bit of work, but so worth the time and effort. I used leftover Recipe #143505 for the pork and it worked great. We ate some for supper the day I made them and the sauce was awesome! The rest went into the freezer and they taste just as good warmed up in the oven as when they were just made. I did use prepackaged coleslaw for the cabbage just to save time. Good luck, this recipe is a winner!
Peanut Sauce

2

tablespoons low sodium soy sauce
1 1⁄2 tablespoons brown sugar
1⁄4 cup creamy peanut butter
1⁄2 teaspoon ground ginger or 1 teaspoon finely minced fresh ginger

1

teaspoon sesame oil

1

teaspoon asian chili oil

1

tablespoon rice vinegar
1 1⁄2 tablespoons chicken broth or 1 1⁄2 tablespoons pineapple juice

Egg Rolls

1

tablespoon peanut oil or 1 tablespoon vegetable oil

1

teaspoon sesame oil
1⁄2 lb pork tenderloin, cut into very small pieces
coarse-ground garlic salt
1 1⁄2 medium carrots, peeled and julienned (1 cup or 4 ounces)
1⁄2 cup white onion, finely diced

3

cups fresh bean sprouts (10-12 ounces)

2

cups thinly sliced cabbage (4 ounces)

1

(16 ounce) package egg roll wraps

1

egg, beaten together with

1

tablespoon water
Whisk soy sauce and brown sugar together until dissolved then add gradually to peanut butter; stir until smooth; stir in ginger,sesame oil, chili oil, and rice vinegar; blend well.
Divide the peanut sauce into two equal portions; set one portion aside in a.
microwave-safe bowl; it will be used later as dipping sauce; whisk chicken broth or pineapple juice into second portion of peanut sauce; set aside for stir-fry.
Add peanut oil and sesame oil to a large nonstick skillet or wok over medium-high heat; heat until oil is almost smoking; add pork to skillet then season with garlic salt and sauté 1 minute; meat will be only partially cooked; add onions and carrots to skillet and sauté another minute or until.
meat is almost cooked through; add cabbage and sauté another minute; add bean sprouts and toss about 30 seconds until veggies are evenly distributed; add thinned (second portion) peanut sauce and cook about 1 minute until sauce is bubbly; carrots should be crisp-tender and bean sprouts should remain crisp.
Remove skillet from heat and turn contents into a strainer; you will have nearly 4 cups of eggroll filling.
Place 1/4 cup of filling onto each egg roll wrap and roll up according to package directions; seal final edge of each egg roll wrap with eggwash.
Fry egg rolls two or three at a time in hot vegetable oil until they are golden; remove onto absorbent paper to drain.
Meanwhile, cook reserved peanut sauce in microwave oven about 45 seconds or just until bubbly around edges; stir then serve with hot egg rolls.
Cooked egg rolls may be kept warm in a low oven until serving time; or egg rolls may be assembled and individually quick frozen either before or after frying.