Egg, Poblano and Avocado Scramble (Ww)
Debbwl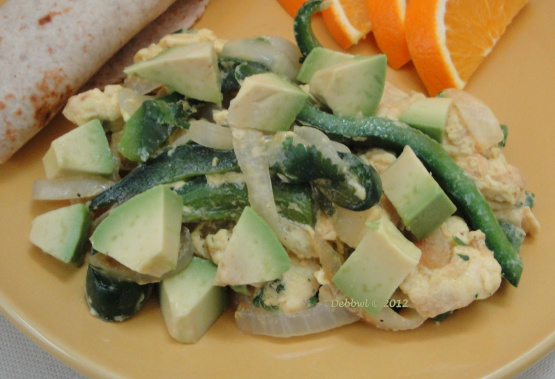 3 points plus/serving. Recipe source: WW Power Foods Cookbook

Top Review by Debbwl
A nice healthy south west breakfast! The poblano peppers bring a great punch of flavor. I made as written resisting the urge to add some cheese which would have been very yummy but also increase the fat and calories. My poblanos were very large which gave more pepper then egg so next time will use less pepper or increase the eggbeaters. Thanks for the tasty post.
Heat oil in sillit over medium high heat. Add chilies and onion, stirring occasionally for 5 minutes or until vegetables soften.
Meanwhile whisk together egg beaters, cilantro, cumin, salt and pepper in bowl.
Pour egg mixture over chili mixture. Reduce heat and cook, stirring frequently until eggs are set (3-5 minutes). Remove from heat and stir in avocado.