Diana 2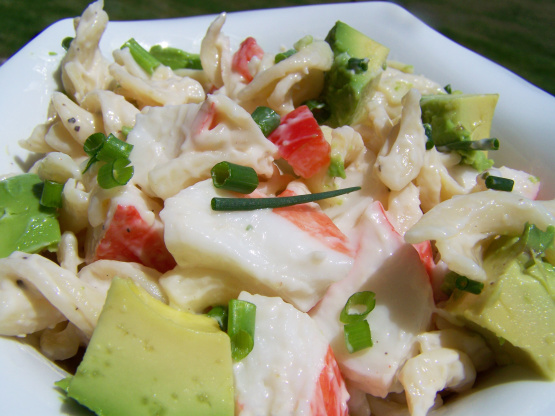 I used those short twisty looking egg noodles for the salad, because they were very cheap and affordable. You can make this ahead of time, but I find the avocado turns brown if it's not sprinkled with lemon juice, and I found lemon juice doesn't really go with this salad, taste wise.

This salad will be on my summer meal rotation so it was a contest keeper here! The salad made generous portions. The horseradish I used was so strong it was the only note at first, but after chilling everything blended & was terrific. My avocado was ripe so melded into the creamy dressing. The crunch from the water chestnuts added a highlight too. I think additional veggies would add color & only add to the awesome salad. Thank you for your entry & good luck in the contest!
Combine first five ingredients in a large bowl.
In a smaller bowl, combine the remaining ingredients to create a dressing.
Thoroughly combine the salad with the dressing, before serving at room temperature. Be careful to get the bottom of the salad coated with the dressing, as that is a difficult part for me.