Egg Mcmuffin Pie/Camp Irons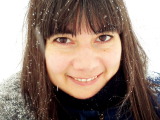 After trying Pamela's frozen breakfast bagels and tweaking that recipe to my family's taste, I decided to give the idea of pre-cooked and frozen eggs a try on a recent camping trip. The result, I decided, was post-worthy. For those of you familiar with camp irons or pie irons, if you've tried doing bacon and eggs sandwiched between two slices of bread, the result may have been rather messy, since the bread is usually toasted to perfection long before the egg is cooked. This recipe will fix that.
Directions
Coat a muffin tin thoroughly with cooking spray.
Break each egg into a muffin cup and add crumbled bacon or cubed ham to each. If using onion and green pepper, add as well.
Bake at 400F for approximately 12 minutes, or until eggs are set.
Let cool a few minutes and then remove egg 'patties' to a wire rack to finish cooling.
Once eggs are completely cooled, place in large plastic freezer bag, removing as much air as possible. Freeze until ready to use -- or ready to pack into camping cooler. As long as they're kept nice and cool, they should last a week.
Once you're ready to make your pie irons, pre-heat the irons in the campfire and then give them a good coating of cooking spray.
Place a slice of bread on one side and place an egg 'patty' in the center. Top with half a cheese slice (folded in half to make a nice neat square on top of the egg) and a bit of salsa, if desired.
Cover with another slice of bread, close your pie iron, place in campfire and cook until done -- approximately 5 minutes.
Enjoy!