Egg in Cheese Meringue Nest
Ambervim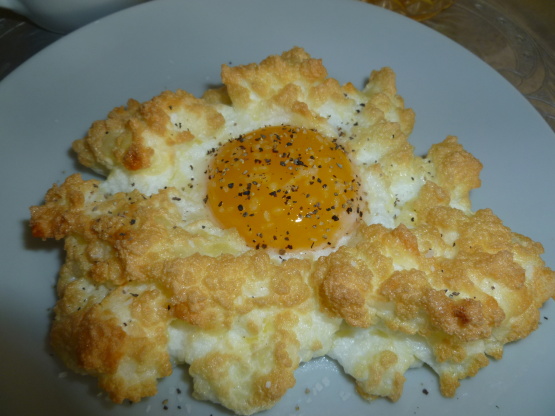 A whimsically illustrated French children's book about cooking, called La cuisine est un jeu d'enfants, or "Cooking is Child's Play" has an intriguing recipe for "egg nest" or "nid d'oeuf". This is it. What a fabulous way to eat and egg!
These looked gorgeous and the taste was outstanding, BUT, I have yet to find one of these recipes that produces a crisp egg white. They are always rubbery! I followed the directions exactly and still very rubbery.
Preheat the oven to 450°F with a rack in the middle. Line a baking sheet that can take high temperatures without warping, with parchment paper or Silpat.
Separate the egg yolks from the whites. It helps if you are making more than one egg nest to keep each egg yolk in a separate prep bowl.
Place the egg whites in a very clean mixer bowl and add the salt. Beat the egg whites with a whisk attachment in a mixer (or using a hand mixer), starting on low speed and then slowly increasing to high speed, until stiff peaks form.
Gently fold in the grated Gruyere cheese, taking care not to deflate the egg whites.
Create two mounds of the egg white mixture on the lined baking sheet. Form the mounds so they look like nests, with indentations in the centers.
Place in the oven for 3 minutes.
After 3 minutes, open the oven, pull out the rack with the egg white nests, and gently add an egg yolk to the center of each nest.
Return the baking sheet to the oven and cook for 3 more minutes.
Serve immediately.