twissis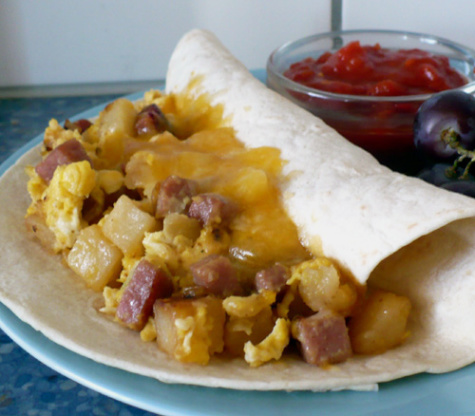 This was one of the only ways I would eat eggs, as a youngster. Very simple to make. You can, rather than using canned hash, use Red Flannel Hash (Red Flannel Hash).

I saved this recipe during Spring PAC 2013 to make at a later time & then made it for 2 family members the 1st morning after PAC ended. To be honest, I do not care for the US canned hash. However, Icelanders love hash for breakfast & use a much better product to prepare it. They use a frozen mix of cubed potatoes & ham w/chopped onion. So a little butter in a non-stick skillet cooked the hash & I used 5 eggs to allow for the extra hash mixture used. Tobasco added a heat-factor, but I kept it mild for the sake of my Icelandic family. Then I served it w/tortillas, a med-heat salsa & fruit for a dandy brunch entrée. I topped my portion w/cheddar cheese (You can take the girl out of TX, but you cannot take TX out of the girl). Thx for sharing this tasty & easy-fix recipe w/us.
1

(15 ounce) can roast beef hash or 1 (15 ounce) can corn beef hash

3 -4

whole eggs (extra large preferred)

1

ounce hot sauce (I like Habanero Hot Sauce) (optional)
Open the can of hash. Turn it out into a frying pan over medium heat; I find cast iron works well.
Break eggs into a glass or bowl.
Break the yolk(s). Add the hot sauce, if desired. Mix until unable to tell apart.
Pour the beaten eggs into the frying pan on top of the meat. Mix into the hash.
Cook until done as you like it.