Egg, Ham and Cheese Crepes Benedict
lazyme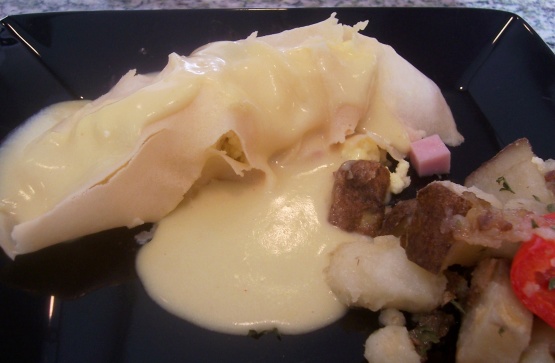 To make this a quick and easy dish, I just purchase Knorr brand dry packages of Hollandaise sauce, or you can make your own, if you have any dried tarragon add in a pinch to the sauce. This complete recipe can be doubled. When you are making your crepes, make an extra batch and freeze for the next time you make this recipe, you are going to want to make this again!... it's such an easy and delicious brunch or a light lunch if you have the crepes already prepared. You can add in other ingredients that you like to the eggs such as green onions, finely chopped green or red bell peppers etc.

Top Review by lazyme
I liked this alot. The only change I made was to use leftover cubed ham rather than sliced. The flavors really go together well, especially if you add tarragon (I love tarragon). I used packaged crepes which cracked a bit when I was rolling them, but that may have been because I tried to roll up so many goodies inside. Another good one, Kitten.
8

crepes (use your favorite crepe recipe)

12

large eggs
1⁄4 cup whipping cream (or use half and half cream)
1⁄4 cup grated swiss cheese (or use similar cheese)

3 -4

tablespoons butter
salt and pepper

8 -16

slices cooked ham
1 1⁄2-2 cups hollandaise sauce
Prepare the Hollandaise sauce.
In a bowl whisk together the eggs, whipping cream, a couple drops of Tabasco sauce (or to taste) salt and pepper.
Heat butter in skillet until hot, sizzling and lightly browned.
Add in the eggs and grated Swiss cheese; scramble to light and fluffy (do not over cook the eggs, as they will cook more in the oven).
Lay out the crepes, then top with 1-2 slices of ham.
Divide the egg mixture evenly on top of the ham slices.
Roll up the crepes and place in a buttered baking dish.
Brush the rolled crepes with melted butter.
Place in a 350 degree oven.
Bake for about 15 minutes, or until lightly browned.
Place 1-2 crepes on a plate and drizzle with prepared Hollandaise sauce.
Serve immediately.
Delicious!