Egg Free Pumpkin Chocolate Chip Cookies
Kree6528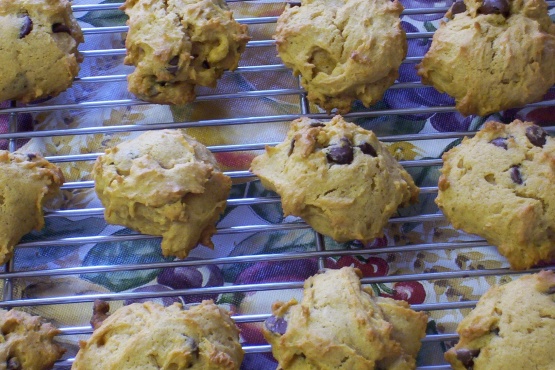 These are my signature cookies! I got the recipe from Allrecipes.com a couple of years ago, and it has been a favorite ever since! Don't let the egg free part throw you. These cookies are moist, puffy, and delicious!

I made these cookies with white chocolate chunks. The last part of the batter didn't have any chunks left, so I added some chocolate chips just to see how they tasted. I liked the white chocolate better. Next time I might try them with half brown sugar. I cooked the last batch for only 10 minutes instead of 12 and thought those turned out the best. This recipe makes 105 cookies using a small scoop, so next time I'll halve the recipe. Overall, a really good dairy-free cookie recipe! Thanks! Update: I made these again with light olive oil instead of shortening and added 1/4 tsp ground ginger and cooked them for only 10 minutes and they are delicious!
Preheat oven to 375°.
Cream the sugar, shortening, pumpkin, and vanilla together.
Mix until light and well combined.
Mix the flour, baking soda, and ground cinnamon.
Stir the flour mixture into the creamed mixture.
Mix until combined.
Stir in the chocolate chips.
Drop by rounded teaspoons onto an ungreased cookie sheet.
Bake at 375° for 12-15 minutes or until set.
Let cookies cool on a rack.