Egg-Free Oatmeal Whole Wheat Quick Bread
federico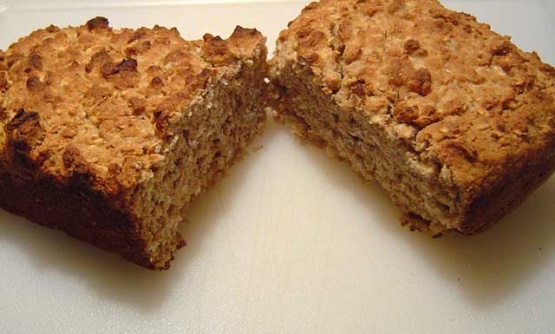 This recipe fits the bill in my search for egg-free quick breads. It tastes great fresh from the oven. You can make this vegan by using maple syrup instead of honey, and soy milk. It is not a "sweet" bread, so if you want to make it sweeter, increase the amount of honey.

Very tasty!! And easy to make! I did as another reviewer suggested by leaving the oats whole as we like "chunky" bread. It was delicious and everyone LOVED it! We couldn't wait for it to cool completely so it didn't slice as easily as I would have liked, but I think it will once it is completely cooled. Thanks for a great quick bread recipe!
Preheat oven to 450°F (230°C).
Lightly grease and dust a 9x5x3-inch loaf tin.
Grind oats in a food processor or blender to form a meal/flour.
In a large bowl, combine oatmeal, whole-wheat flour, baking powder and salt.
In a separate bowl, vigorously whisk together honey and vegetable oil to form an emulsion; then stir in the milk and mix well until dissolved.
Add wet ingredients to the dry ingredients and mix well to form a moist, viscous batter.
Pour/spoon batter into prepared loaf tin and bake in preheated oven for 30-40 minutes or until the top starts to brown slightly.
Remove from loaf tin, cool completely on a wire rack and cut into slices (20 slices is the original yield).
Serve with honey, butter, syrup, or applesauce; or use in sandwiches.