Egg-free Oatmeal Cookies Low Fat Recipe
Dorel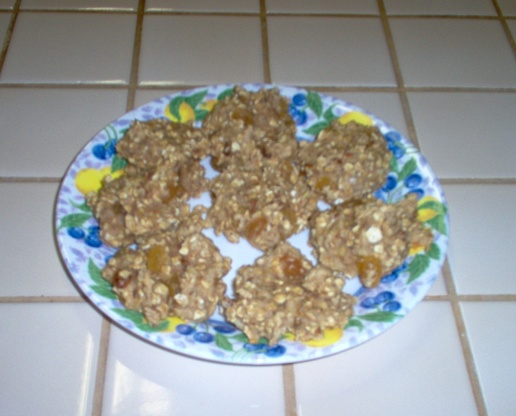 I was looking for healthy low fat egg free recipes for cookies and found these on a Fitness web site.They don't taste like your usual cookie but there pretty good for something that has no fat and no cholesterol. I used Spenda instead of white sugar as the reviewer sungested.

These were alright, the texture was very weird. Sort of rubbery. Not too bad of a taste though.
Preheat oven to 350*F.
Grease a cookie sheet or use parchment paper.
In a medium bowl stir together the brown sugar, white sugar or Splenda and applesauce.
Sift together the flour, baking powder, salt and cinnamon.
Stir into the applesauce mixture.
Add the rolled oats, raisins, and chopped nuts (if desired).
stir until combined.
Drop by rounded teaspoonfuls onto the prepared cookie sheet.
Bake for 10 minutes.
Allow cookies to cool slightly before removing from baking sheet.