Annacia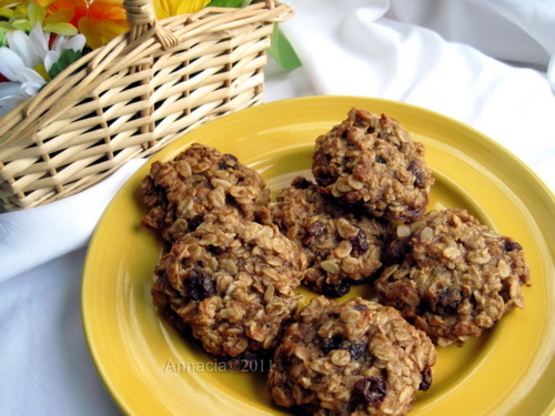 A sweet treat for those that can't tolerate eggs. From our local newspaper.

I'm posting this review but I have to say that the recipe was made and rated my my DH. Yup, He has recently become a cookie baker and he's really enjoying it! He was "in the mood" today but there are no eggs in the house currently, hence, the choice of this recipe. He made them with raisins and added cinnamon. His review: "Excellent tasting cookies. I should have baked them for just the 10 mins instead of 14 mins because some of the raisins got too hard. I've ask my wife to save this recipe". I think that pretty much says it all (sometimes I remember why I love this guy :D).
Preheat oven to 375F.
Mix first six ingredients thoroughly.
Stir in nuts and chips.
Drop by tablespoonfuls onto ungreased baking sheet.
Bake for 10 to 15 minutes.