Bergy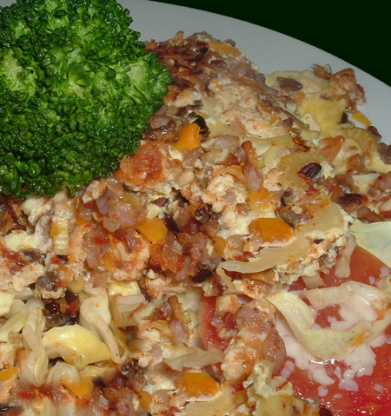 This is a slightly different Egg Foo Yong, If you have difficulty shaping the patties do it one by one on the skillet. Nice Luncheon dish with crisp green salad

I made these for lunch with left over Recipe #11377 from yesterday. Over all a very good version on egg foo yong. I scaled it down to make 2 really big patties. I couldnt get it to shape so I just put two batches in a small skillet. The sauce was alright, when I make this again I think I will try a diffrent sauce but the patties are a big 5 star! The next time I make these I think I'll try some diffrent veggies and tell you how it goes, thanks for posting this ones another winner!
Mix all the ingredients together (not the sauce ingredients), blend well, put aside.
Mix the sauce ingredients in a saucepan.
Cook stirring constantly until clear.
Keep warm.
When you are ready to serve; Heat oil in skillet.
Shape mixture into 10 patties and put in skillet.
Cook over medium heat for about 3 minutes each side.
Serve with the sauce (heated) over top.