Egg Drop Soup (Restaurant Style)
TnuSami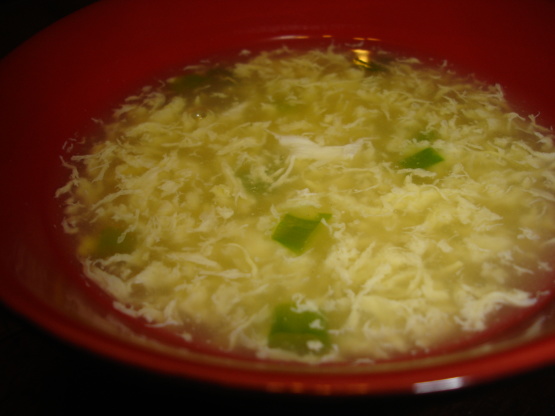 I came up with this recipe while searching for the perfect "Egg Drop Soup". My picky 9 year old likes it, so I feel it is kid friendly.

I have made this several times and failed to review or rate the recipe. The time has come the walrus said.......This is a wonderful soup. I had to use the billion cubes so I omitted the salt. I also cut back on the number of eggs as I only had two but it was fun watching them cook when they hit the hot broth. I am making this again tonight as I have a cold and it sounds so good. I'm adding shrimp, green onion and the last carrot(shredded). Thanks for a great recipe.
Reserve 3/4 cup of chicken broth, and pour the rest into a large saucepan.
Stir the salt, ginger and chives into the saucepan, and bring to a rolling boil.
In a cup or small bowl, stir together the remaining broth and cornstarch until smooth.
Set aside.
In a small bowl, whisk the eggs and egg yolk together using a fork.
Drizzle egg a little at a time from the fork into the boiling broth mixture.
Egg should cook immediately.
Once the eggs have been dropped, stir in the cornstarch mixture gradually until the soup is the desired consistency.