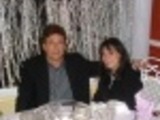 This couldn't be simpler...or faster, and tastes just as good as your local Chinese take-out.
Directions
Reserve 2 tablespoons of broth. Set aside.
In saucepan, heat remaining broth to boiling. Mix cornstarch with the reserved broth. Stir into hot broth.
Slowly add egg, stirring gently. Sprinkle with scallion.
Most Helpful
Sorry, folks I was searching for a Egg Drop recipe that would create the great EDS's that I was accustom ... I will say this one was the worse ... No seasoning . very bland with very little taste ... And no spices ... I think I have found others that look more inviting ... Thanks ...
this was the lightest of the egg drop soups delicate and good cakepops on parade

This soup was so easy to make.I made this soup as a last minute idea for a dinner get together and everyone loved it and wanted the receipe. I had printed out the receipe and everyone made a copy to take home.