Egg and Vegemite Soldiers
Debbwl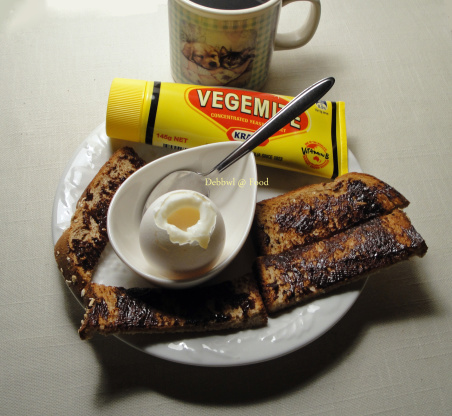 I grew up with vegemite soldiers, my grandmother made them for my mum, my mum used to make them for me, and then I made them for my kids, and I guess it's just one of those things that will continue. I still love this recipe every now and then and so do my teenage kids and DH. Yes we are all Happy Little Vegemites here!!!! And of course it goes without saying the spread MUST be vegemite........NO alternatives !!!!
Place eggs in saucepan, add enough hot water to cover eggs. Bring to boil and simmer for 3 minutes for soft boiled yolk.
Spread toast with Vegemite and cut into 2cm fingers(about 3 fingers)to make soldiers. Place eggs in egg cups, slice tops off eggs. Dip soldiers in the soft egg yolk.