Egg and Nori Rolls (Tomago)
dicentra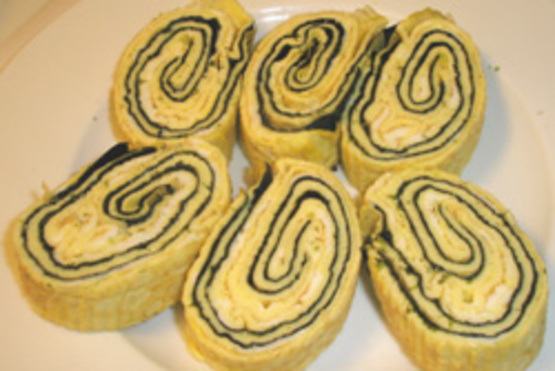 These are so pretty with spirals of black and pale yellow. From The Book of Appetizers. I've made this twice now. I think the amount of egg needs to be doubled (see photo). Makes more like 6-8 servings, not 12. I've kept the recipe as written.
Toast each sheet of nori until crisp by running it over a gas flame or electric element set on medium heat. Careful not to burn! Set aside.
In a bowl, beat together eggs, salt and water.
Heat a skillet on a medium heat; grease lightly. Set 1 teaspoon egg mixture aside.
Use remaining eggs to make 4 thin omelets. Trim nori sheets to the same size as omelets.
Place omelet, uncooked side up, on a bamboo mat. Top with 1 sheet of nori.
Continue stacking omelets and nori until all are used.
Roll up omelet-nori stack in mat to make a tight, compact cylinder; seal seam with reserved egg.
Let stand until cold. Remove bamboo mat; cut roll in 12 chunks.