Mercy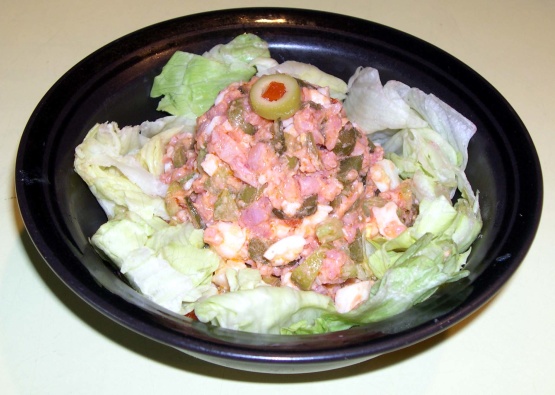 I'm always looking for recipes that sound something like what my grandma would've made. She was a wonderful cook and even the most average lunch or dinner seemed great. She made an egg salad that I haven't figured out yet. We made sandwiches with it. I found in my "300 Ways to Serve Eggs" circa 1949 a way to make Egg and ham salad that sounds interesting.

Top Review by Mercy
Delicious! This is such a unique alternative to a mayonnaise based ham and egg salad and we really enjoyed it. I had 2 cups of leftover ham, so I ended up tossing it all in the mix and then I increased the olives and gherkins (didn't have anymore eggs). I used Kraft Catalina dressing and it really didn't take much dressing at all to moisten the mixture, just two big squirts. The flavors really blend well and it is such a breath of fresh air (especially when you are tired of last week's ham and have no room in the freezer for the leftovers)!
6

hardboiled egg, diced

1

cup diced cooked ham

6

sweet gherkins, sliced

1

cup chopped celery

10

stuffed olives, chopped
French dressing
Combine all ingredients, adding enough french dressing to moisten.
Chill thouroughly and serve on salad greens.