KateL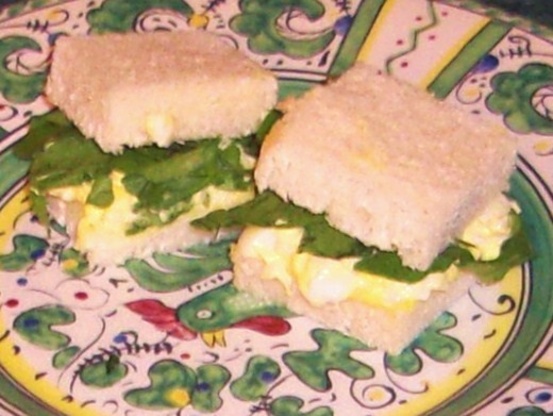 Cucumber Sandwiches and Egg and Cress Sandwiches: traditional English afternoon tea fare at its absolute best! The mayonnaise in the filling means that there is no need to butter the bread. I have posted this recipe, found on an English website, for the 2005 Zaar World Tour. As a child, I absolutely loved these. Posting this really low fat recipe for the tour has reminded me of these delicious sandwich, and inspired me to make them again soon!
Traditionally in UK they would not have mayonnaisse, thoough I like these. It would just be salted butter mixed with the egg. The recipe correctly states mustard cress, the illustration shows watercress. Both nice but the mustard cress is correct.
4

eggs, hardboiled, finely chopped and mashed

4

tablespoons mayonnaise
salt, to taste
fresh ground black pepper, to taste

2

cups baby mustard cress or 2 cups garden cress

16

slices firm white bread or 16 slices firm whole wheat bread, thin slices, crusts removed
Mix the finely chopped and mashed eggs and mayonnaise together and season to taste.
Spread half of the slices of bread with the egg mixture, sprinkle some mustard and cress on top of each one, reserving some for garnishing, place the remaining slices of bread on top, and cut each sandwich into 4 triangles.
To serve: Arrange the sandwiches on a platter, garnish with the remaining mustard and cressand and serve with Cucumber Sandwiches.