GaylaJ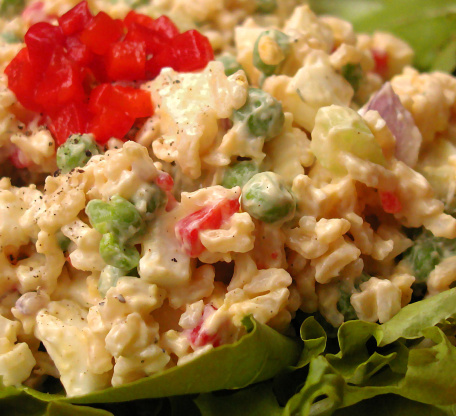 Found this recipe about 10 years ago in the "Working Woman's Cookbook" It makes alot, and has been a hit at picnics.

A good summer staple for picnics and potlucks, I've made this many times in years past. I usually add a bit of garlic, use chopped green onion instead of white or yellow, Dijon, and add a sprinkle of cayenne for a little kick. Thanks for reminding me of the recipe!
Rinse peas under cold water to separate; drain.
In a very large bowl mix together peas, eggs, rice, celery, onion, cheese, and pimiento.
In a small bowl combine mayonnaise, mustard, lemon juice, salt, pepper, and dill weed.
Toss with egg mixture.
Sprinkle with paprika.
Cover and refrigerate at least 4 hours, but no longer than 24 hours.