loof751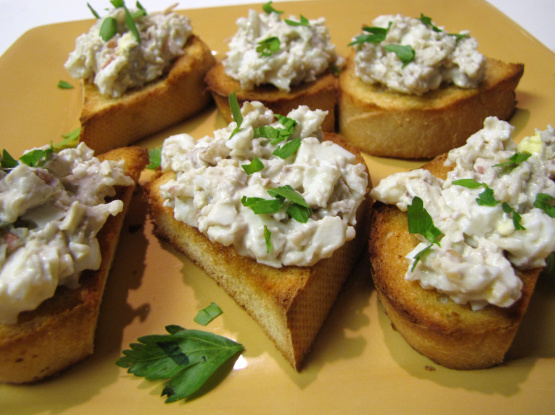 From Better Homes and Gardens' Fresh and Simple Vegetarian Dinners, this recipe has been slightly tweaked!

Wow - fantastic! An unusual combination of ingredients that work so well together. I used half the amount of dressing mixed with a little light mayo as I don't like a strong blue cheese flavor. Topped with some fresh chopped parsley and loved this - thanks for sharing the recipe!
Preheat oven to 450 degrees F.
Stir together oil & garlic, then using a pastry brush, brush one side of each bread slice with the oil mixture.
Place bread slices on a baking sheet & bake about 10 minutes or until tops of bread slices are golden brown.
Meanwhile, in medium bowl, toss together eggs, apple, walnuts & salad dressing.
Top each toasted bread slice with some of the egg mixture, then serve immediately.