Ed's Leftover Chicken and Roasted Garlic Pasta
Prep 10 mins
Cook 30 mins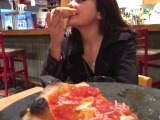 Leftovers do not need to be boring. Roast some garlic, boil some pasta and have some fun! Great with an Edna Valley Chardonnay, and a mixed green salad with a balsamic vinaigrette.
Directions
heat butter in a large skillet and add shallots.
Saute shallots about 1 minutes and squeeze out the garlic cloves into the mixture and add the chicken.
Season with salt and pepper.
Add chicken broth and reduce by 1/2.
Add the cream and reduce by 1/4, then add the spinach and cook at a low simmer until the sauce coats the back of a spoon.
Serve over pasta.
Most Helpful
This recipe was delicious, especially when made with leftover mesquite, charcoal grilled chicken. I would make a few tweaks, however. I would add the cooked chicken toward the end (with the cream) or with the spinach (at the end). Adding the chicken before the chicken stock caused the chicken to become overcooked and dry. My husband also suggested tossing the pasta with the sauce at the end just to help coat the pasta with the sauce flavors.
This is an outstanding recipe that is so simple to make. I was going to take some photos but we had some visitors staying with us and they were too hungry. Next time, and there will certainly be many next time with this one. I used leftover chicken from grocery store whole rotisserie chicken. The roasted garlic is a must in this recipe and makes this sauce so sumptuous. Loved using spinach like this too - what a great addition and completes the color as well as flavor. Thank you for posting this one!
Great tasting, easy to prepare. Will make again