Ed's Creamy Chanterelle Soup
Prep 15 mins
Cook 45 mins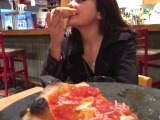 This evening DH came in with some fresh Chanterelles straight out of the yard. He proceeded to create the most decadent and wonderful dish. It did not take long for the kitchen to smell heavenly. I could O.D. on this soup!
Directions
Sweat the mushrooms, onion, garlic, and celery over med-low heat in the butter until the onion is translucent and the mushrooms are soft.
Add a pinch of freshly ground black pepper and kosher salt.
Add 2 cups chicken broth and optional saffron and simmer, stirring occasionally until the liquid is reduced by half.
Approximately 10 minutes.
Transfer to the bowl of a food processor or blender, add the sage leaves and puree.
Return to the pot and reheat to a simmer.
Season again with salt and pepper.
Temper the half and half and slowly whisk into the mushroom mixture.
Simmer, stirring with the whisk until thickened.
It's done when it will coat the back of the spoon.
Remove from the heat.
Then add 1.5 TBS cold butter and whisk.
Serve immediately.
Most Helpful
This was my first time using chanterelle mushrooms and I'm glad I chose this recipe because even though I doubled the recipe it was barely enough for 4 people (that's how much we enjoyed it). This would be perfect served at a dinner party as it is sure to impress your guests. Thank you.

We just finished picking a bounty of Chanterelle mushrooms as we have had a very wet summer here in the mountains of AZ. After searching for recipes, Ed's popped up and I immediately went to work. The recipe was easy, I even had saffron in the pantry! It is yummy creamy. The only change I made was to use white pepper since the chanterelles are so mild and delicate. This is a lick your bowl kind of soup and I am anxious to see how it freezes so we can warm up in front of the fireplace with a creamy bowl this winter. Thanks for submitting!