dojemi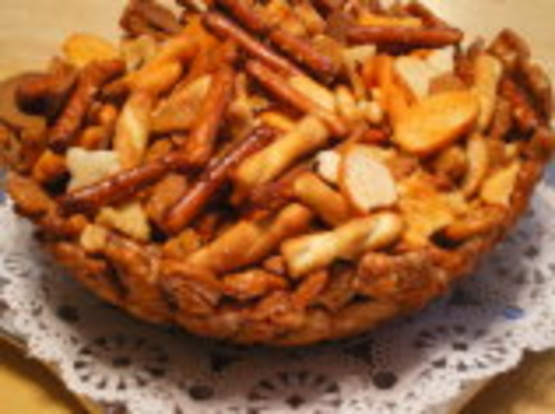 Dubbed the "Super Bowl" - this recipe was featured in the Jan/Feb 2010 issue of Food Network Magazine. Stashing for safe keeping. You will also need aluminum foil and an ovenproof 3 quart bowl to pull this trick off. The article says it is strong enough to hold dip! The original recipe didn't include servings, so 8 is an estimation. Prep time includes time to cool as well.

This was super easy & will be great for the Super Bowl party! I had extra Chex leftover from a white chocolate mix I make every Christmas & by accident stumbled on this recipe to use them up with. I used Rice Chex & Corn Chex & I baked it in my 3 quart stainless steel mixing bowl. The only thing I'll do in the future is be extra careful that enough cereal stays along the bottom of the bowl. Mine got pushed apart in a couple spots, by the foil, & created small openings that the dip dripped through. I wasn't deterred any though. I placed the snack bowl into a wide, low, soup bowl & filled it with dip. After about an hour the cereal was starting to soften underneath the dip but the bowl held up just fine; only dripping through the two little holes I had in the bottom. This will be a great conversation piece. Thanks for posting, Misa! :D
2

large egg whites

2

tablespoons water

8

cups snack mix (like Chex Mix or rice cracker mix)
cooking spray
Preheat your oven to 325°F
Beat the egg whites with the water with a mixer until you get slightly stiff peaks. Pour in the snack mix and toss until everything is evenly coated.
Take your ovenproof 3-quart bowl and spray it down heavily with your cooking spray. Add your egg white/snack mix mixture into this bowl. Take a big piece of aluminum foil and wad it up into a bowl shape that about 1/3 of your 3 quart bowl. Spray your foil mold down with cooking spray and push it down into the middle of the snack mix, making a dent or well in the middle. This will make the snack mix take on a bowl form.
Place into the oven and bake for approximately 30 minutes, or until the mix sets. Remove from oven and let cool for 5 minutes. Remove the foil and allow the snack mix bowl to cool for another 30 minutes. Then you can invert and remove your snack bowl. Allow it to cool completely before adding dip.