Edible Parmesan Cheese Bowls
SEvans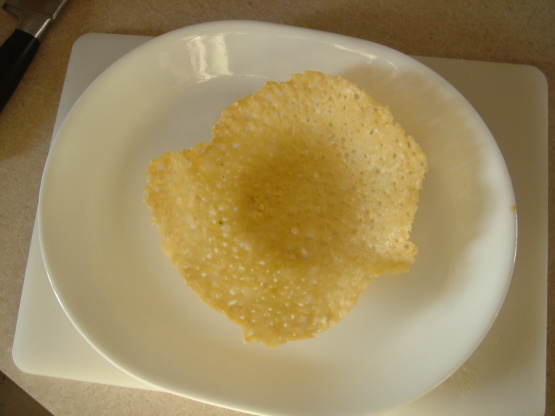 You will wow your guests and your taste buds with this simple edible cheese bowl.
Preheat oven to 350°F - use middle rack.
Grate enough cheese to use 1/3 to 1/2 cup of cheese per bowl - depending on the size you wish to make.
Cut individual sheets of parchment paper according to desired number of bowls.
Make an appropriate size circle on each sheet of parchment paper.
Bake for 5 - 10 minutes depending on size of desired bowl. Watch carefully after the 6 - 7 minute mark - you only want the bowls to bubble, melt and turn slightly golden colored.
Remove from oven - and carefully using the parchment paper turn the melted cheese over the bottom of the bowl- it conforms as it melts.
Serve your favorite salad in these delicious edible bowls.
Pictured is my pear and apple salad - a delicious combination.