Edesia's Sweet Potato Casserole
Edesia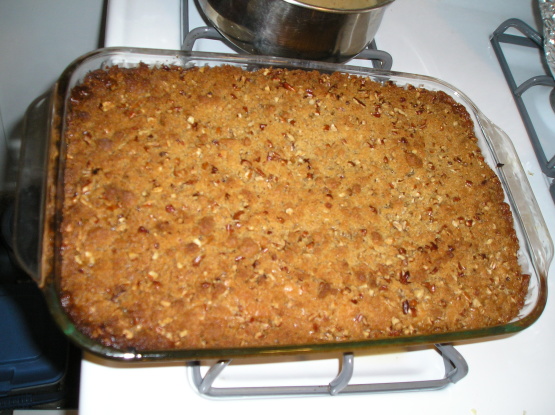 I got this recipe from a woman in Texas. Everyone absolutely loves it. Loaded with butter and sugar, it tastes like dessert! I make it every Thanksgiving and everyone asks to take the leftovers home with them. If you like things less sweet, cut back on the white sugar.

Top Review by Robyn
This was the star of my Thanksgiving feast! I roasted 5 sweet potatoes then peeled them easily and used Splenda in place of the white sugar. This was a hit with my sweet potato "haters" too! This will be an annual Thanksgiving dinner recipe from now on. Thank you!
Combine sweet potatoes, 2/3 cup butter, salt, sugar, eggs, vanilla, and 4 tsp flour. Pour into a greased 9 x 13" casserole dish.
Combine brown sugar, remaining butter, and remaining flour; mix together until crumbly. Add pecans. Put on top of casserole.
Bake at 350° for 45-60 minutes or until set in the middle.