Edesia's Slow Cooker Poached Chicken and Vegetables
Edesia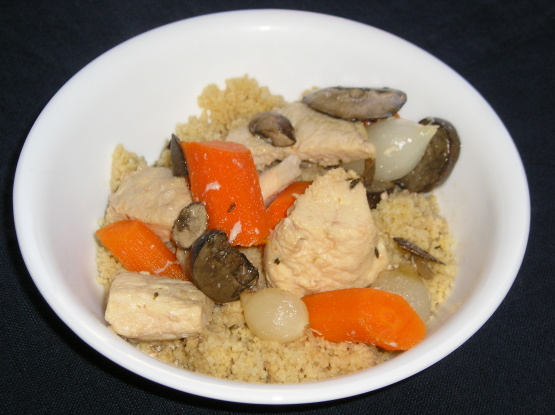 This is the easiest slow cooker recipe I've ever made. It takes all of five minutes to throw into the slow cooker and you end up with a simple, but tasty and filling, dinner. This is a Rachael Ray recipe that I adapted for the slow cooker.
Place chicken broth in slow cooker. Add tomato sauce and whisk to combine. Add chicken, carrots, celery, mushrooms, and garlic. Cover and cook on low for 3 hours.
Add onions and thyme and cook an additional 3 hours. Put couscous into a small bowl. Add 1 cup of cooking liquid from slow cooker. Cover bowl tightly and let sit for 5 minutes. Remove cover and fluff with a fork.
To serve, place couscous in a bowl. Remove chicken and veggies with a slotted spoon and place on top of the couscous. Spoon some of the broth over it if desired.