Edamame (Soybean) & Corn Salad
teresas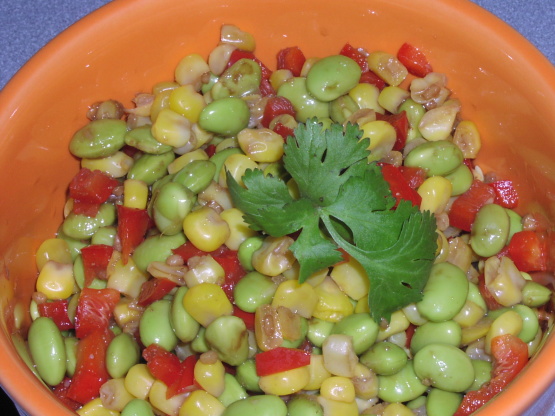 This is a recipe from our local newspaper. I have never made this recipe, but I wanted to try it soon and thought this is the *perfect* place to save it for use in the future! It sounds really good! Cook time reflects the chill time in this recipe.

Had to make something quickly and luckily had all the ingredients on hand. Everyone loved it. Great tang to it. Will definately be making this one again!
In a small saucepan, combine vinegars, sugar, cumin, onion powder and garlic. Heat until sugar is dissolved. Remove from heat.
Place edamame, corn and red pepper in a medium bowl.
Pour vinegar mixture over vegetables. Stir to mix.
Cover and chill 1 to 4 hours, stirring once.
Just before serving stir in cilantro.