Edamame Salad With Baby Beets & Greens
Coasty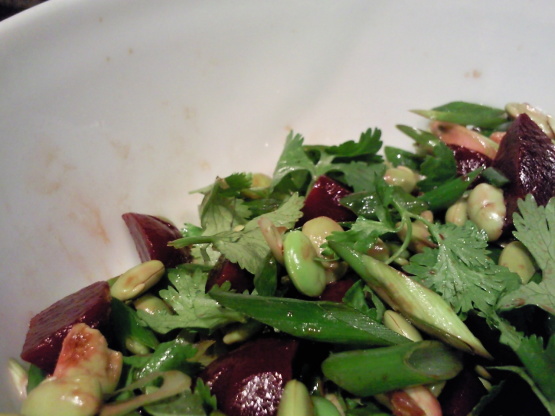 A delicious salad full of protein and fiber! Adapted from Food & Wine magazine, this recipe is by Melissa Clark.
Set a steamer in a large saucepan over 1/2 inch of water and bring it to a boil. add the beets, cover and cook over medium heat until tender, about 20 minutes. Check the water level about halfway through, and add more water if needed. Move the beets to a plate.
Steam the edamame in the same steamer until tender, about 5 minutes. Rinse the edamame in cold water, then pat dry with paper towels. Peel and cut the beets into wedges.
Stir the rice vinegar with the soy sauce, sesame oil, sugar and grated ginger. Add the edamame, beets, scallions and beet greens and toss to coat. Sprinkle the basil on top and serve. Enjoy!