Edamame Hummus With Pita Crisps
gailanng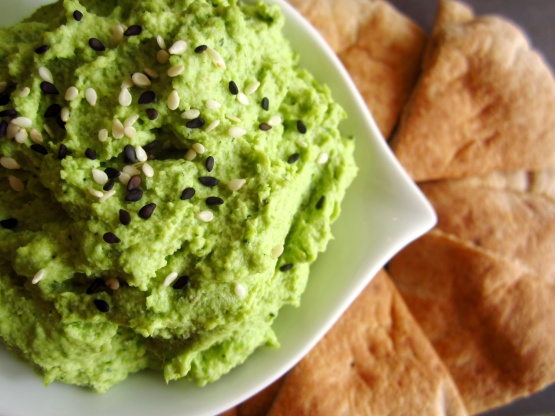 From Cooking Light. Made for the super bowl party and it was a big hit with those that like edamame. It's green when it's done, and a bit thick. Next time, I will thin it a bit more with a bit more water. Delicious with chips too.

Although this is a tasty snack, I think that I prefer hummus with chick peas instead. Thanks for the recipe though! It is nice to know that there are alternatives out there!
Preheat oven to 350°F.
Arrange pita halves in a single layer on oven rack.
Bake at 350°F for 15 minutes or until crisp, and cool completely on a wire rack.
Break each pita in half into about 6 chips each.
Prepare edamame according to package directions, omitting salt.
Place 3 tsp oil, salt, cumin, coriander, and garlic in a food processor, and pulse 2 or 3 times or until coarsely chopped.
Add the edamame, parsley, tahini, water, and juice; process 1 minute or until smooth.
Spoon the hummus into a serving bowl.
Drizzle with remaining 1 tsp oil, and sprinkle with paprika.
Serve with pita crisps.