Edabroccamole (aka Edamame, Broccoli, & Avocado Guacamole)
Teasaidh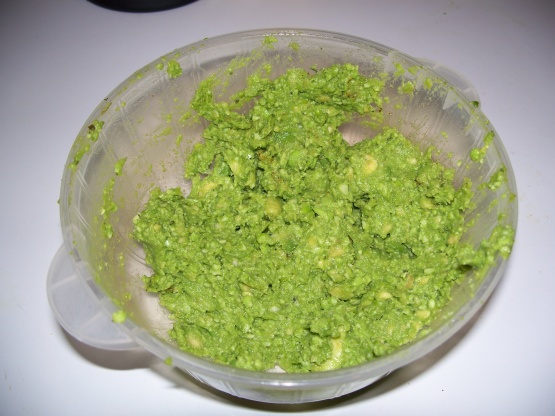 While avocados are delicious and nutritious, they're also high in fat (horrors!). This recipe pares the fat down just a smidge by switching out some of the avocado for edamame (green soybeans) and broccoli. I originally saw this on the Food Network. Providing you like avocado guacamole, and you don't fear soybeans or broccoli, you'll love this too! Fresh bright flavors to complement a tray of baked corn tortilla chips and crudites, or a plate of steaming enchiladas.
1⁄2 cup peeled edamame, fresh or frozen (I buy the frozen peeled kind, but if you can find fresh, by all means do!)
1⁄2 cup broccoli stem, peeled

1

avocado, peeled (save the pit)

1

scallion, sliced
1⁄2 red onion, diced

1

clove fresh garlic, minced
1⁄2 jalapeno, minced

1

tomatoes, diced

2

tablespoons cilantro, chopped
salt, to taste
pepper, to taste

1

teaspoon cumin (optional)

1

teaspoon oregano (optional)
Simmer the peeled edamame in boiling water for 2 minutes or until soft (alternatively, microwave the beans with a few tablespoons of water on high power for 2 minutes); Drain.
Blanch the broccoli in rolling boiling water 30 seconds to 1 minute; Drain; (I didn't use the broccoli in my version so I can't vouch for how it tastes in there; I love broccoli, though, so probably it's great!).
In a food processor bowl fitted with the steel blade, place the scallion, red onion, garlic, jalapeno, lime juice, tomato, and cilantro; pulse until all ingredients are finely minced.
Now add the broccoli and edamame; pulse on and off until well incorporated.
Last, add the roughly chopped avocado to the above mixture (don't toss that pit!) and pulse until combined but not completely pureed; preserve some of the chunky avocado texture.
Taste for seasonings, adding salt and pepper, and perhaps more lime juice; I also like to fold in the cumin and oregano, although these were not included in the original version.
Chef's notes: "Edamame" are green soybeans; I find them in the frozen foods section at the grocery store; To forestall the inevitable browning that happens with avocado dishes, slot the avocado pit into the container with the dip; also, place a layer of plastic wrap directly on top of the dip in whatever container is holding it to minimize oxygen exposure until you're ready to serve, or for the duration of time it's stored in your refrigerator.