2Bleu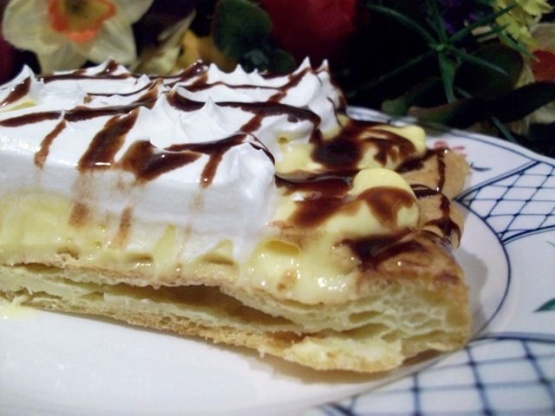 I made this cake in my teenage years for a youth activity. It has been many years since, and I wanted to make it for a party not to long ago. I figured recipezaar would have a similar one, I searched, but I couldn't find anything remotely close. I tracked down the woman who taught us how to make this, and since there wasn't one like this I thought I would share it with you. It is delicious, a great dessert to take to anywhere!

I made this for Father's Day. Big hit! I don't like instant pudding, so I made a cooked vanilla custard. And for the chocolate topping, I used a can of prepared chocolate fudge frosting, microwaved it until it was thin enough to drizzle over the top. My dad LOVED it! My grandma called it a cream puff cake, which is probably closer to what it actually is. I'll definitely make this again.
PASTRY: In a sauce pan bring to boil butter, salt, and water. After it is boiling add in flour and stir until it forms a ball.
Take off heat and add 4 eggs one at a time. Beating by hand until mixed thoroughly. (They will kinda look slippery and the flour ball will separate into chunks. Keep stirring the egg will eventually mix inches It is SO important that you add them one at a time. )
Lightly spray jelly roll pan with a nonstick cooking spray and spread mixture in bottom of pan. (It is a little stiff, I use a spoon and run it under hot water to help it spread better.).
Bake at 400 degrees for 25 minutes. It will puff up you may want to poke the bubbles with a fork. Take out of oven and let it cool completely.
FILLING: Beat both packages of french vanila instant pudding with milk. Add softened cream cheese. Beat again. Spread on cooled pastry. Spread whipped topping over top of pudding mixture.
GLAZE: In a bowl mix chocolate chips and butter, put in microwave for 1 minute or until melted. Add milk and powdered sugar and mix well. Drizzle over top of whipped cream and chill in fridge.