Eat Your Beans! Easy Fresh Green Bean Salad
awalde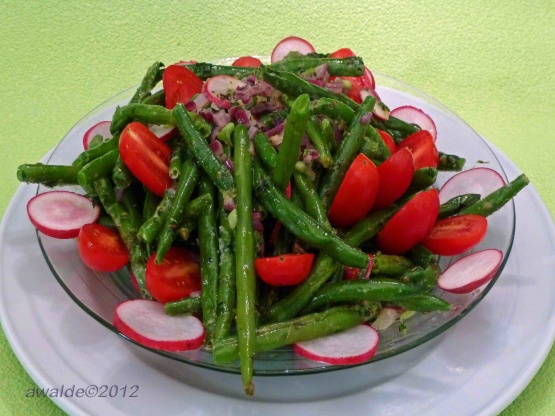 A handy little recipe that I adapted from a pretty generic looking Mexican cookbook that I have. The original recipe calls for feta cheese, so that's an option if you eat dairy. I think it's a great dish without the cheese but also plan to incorporate Almond 'feta Cheese' Spread With Herb Oil (Vegan) into it next time. Great way to use fresh beans from your garden, they are the star of the dish!

Top Review by awalde
Wow a real different green bean salad!
I had to boil the beens for about 12 minutes until they reached the tender but still "al dente" stage.
As I had only strong onions I drained the hot beens, added the onions, tossed and covered for 2 minutes. After this I placed them in big bowl to cool down completely.
I added the dressing half radish, tossed again, placed the salad on the serving dish and decorated with remaining radish and tomatoes.
Yummy and beatiful, thanks!
Bring about 2 inches of water to boil in the bottom of a steamer. Add the beans to the top part, cover and let steam until tender but still firm (about 4-5 minutes). You really want to retain their crispness. Drain and rinse under cold water to stop the cooking process. You could also dunk them into a ice water bath. Drain well and pat dry.
While the beans cook, whisk together the vinegar, olive oil, mustard and garlic and season to taste with S&P. (If using feta you likely won't want any salt).
Place the cooled beans into a bowl with the onions, cilantro, radish slices, oregano and toss together with the dressing. Adjust seasoning.
Transfer to a serving platter. Surround the beans with the tomato wedges for garnish. Chill until ready to serve.