berry271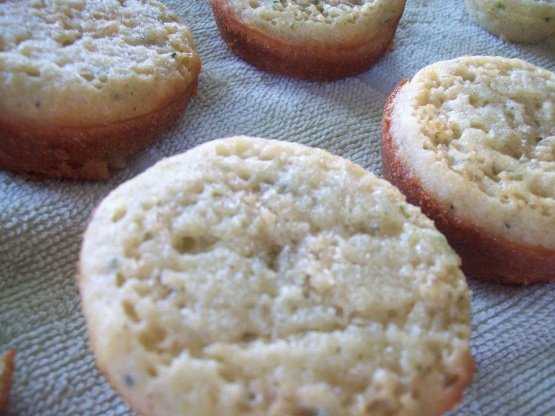 This recipe was from my grandmother. It is one of my favorites and it is so easy to make. In fact, the hardest thing about it is sharing it! A warm slice with a little butter is the best. It also freezes great!

I chose to make this recipe because my objective was to use up some of the abundant zucchini that my neighbor shared with us and this recipe used more zucchini than flour as opposed to many others that use more flour and less zucchini. I was a little nervous because the batter was really liquid, but so far it's turned out well. I made a batch of mini muffins, a batch of standard muffins and a loaf of bread, because I only have one loaf pan. The muffins have all turned out well, and the bread just came out of the oven and it looks good to go. This is pretty sweet, so I might cut back on the sugar if a make it again.
Preheat oven to 325.
Grease bottoms only of 2 - 9x5x3 loaf pans.
Blend all ingredients together on low for about 1 minute, scraping sides of the bowl constantly.
Then, beat on medium for about 1 minute. Don't over mix.
Pour evenly into pans and bake for approximately 50-60 minutes or until toothpick inserted in center comes out clean.
Cool on rack for about 10 minutes then remove from pan.
*If you use self rising flour, omit salt, soda, and baking powder.