Easy Yellow Pound Cake With Lemon Glaze
Prep 10 mins
Cook 50 mins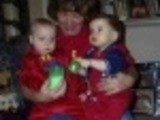 This recipe came from a great cook I knew in Texas.
Directions
Preheat oven to 350 and prepare a bundt cake pan.
Blend the first five ingredients by hand, then mix at medium speed for 2-3 minutes.
Bake for 50-60 minutes.
Mix the sugar and lemon juice, prick the top of the hot cake and glaze while still hot.
Most Helpful
My 16 son made this. He loved it. I only had a cheescake pudding mix, but we will probably have to use that from now on. It was very creamy tasting to him. He was taking it to school so we didn't do the glaze. Really didn't need it. Even with the mistake of somehow turning the oven off after about 20 minutes and not noticing it for until the timer went off it still worked. One for the "College Cookbook" for sure! Thanks!
Used the glaze for another Zaar recipe, "Amanda's Cream Cheese Pound Cake" and this glaze was delicious. Everyone loved it! Will use it again! Thanks for sharing...
Although I didn't make the glaze to top the pound cake I still rate this 5 stars. Starting with a cake mix made it easy (which I like), it baked up beautifully, and tasted great. I baked this in two small loaf pans and sliced to serve with fresh fruit and whipped cream for a fast dessert. I wrapped the second loaf in plastic wrap and it stayed fresh several days. Thank you for a recipe I will use again.