Aimee88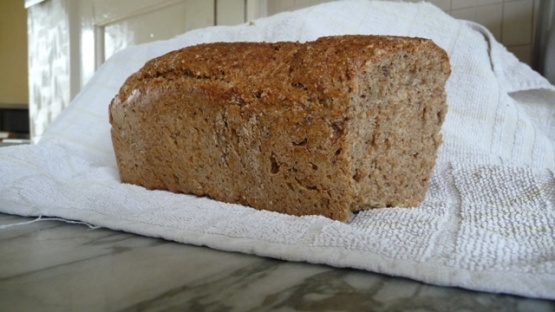 This recipe is my adaptation from the Grant Loaf in the Food Combining book. I use a wholewheat bread flour with flax and sunflower seeds. This is the easiest bread I have ever made, and it is now our everyday bread. There is no kneading required and it only raises once. I bake about 3-4 loaves per week. It's great as toast! If you like more flax in your diet, add up to a 1/2C of ground flax. You may then want more water.
Combine honey, yeast and a few tablespoons of the warm water. Allow to stand until foamy.
Combine flour and salt.
Add warm water and yeast/honey mixture to the flour and salt. Stir until combined. The dough will be sticky, but should not be wet. Add additional water, if needed.
Place in bread pan and let stand, covered, in a warm place for about 40 minutes.
Bake at 200°C/400°F for 40-50 minutes (50 minutes for a dark, crispy crust).