Easy Veggie Salad With Asian Dressing

Created for RSC Lucky #13. A crunchy broccoli slaw, marinated in an Asian inspired dressing.
Directions
In large bowl, combine all 5 salad ingredients.
In small bowl combine all 11 dressing ingredients. Stir or whisk to combine.
Pour dressing over salad, mix well. Cover and refrigerate til serving time.
Reviews
Most Helpful
Really liked this one, of course it has lots of my favorites so I couldn't go wrong! I didn't add the celery seed or marjoram to the sauce and used black sesame seeds which gave a pretty contrast to the salad. Made for ZWT6.

There was no way I wasn't going to love this recipe. Two of my favorite veggies (tomatoes, artichoke hearts), my favorite beans and my favorite Asian salad dressing mix (rice vinegar, sesame oil, soy sauce). It was awesome! Instead of broccoli slaw (generally it's not available where I live) I used red and green cabbage and a few extra thinly sliced baby carrots I had in the fridge. My BF also loved this; he ate the leftover dressing in his bowl with a spoon. I have salad leftovers, which no doubt will keep well until tomorrow. I will add some croutons I have, will taste great! Oh, I omitted the olive oil altogether. Otherwise no changes other than already mentioned. Thanks for this great recipe! Will undoubtedly make again.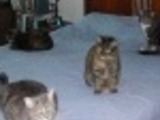 Crunchy, healthy and tasty. I substituted cooking sherry for the rice wine vinegar because it was all I had and it was good.