teresas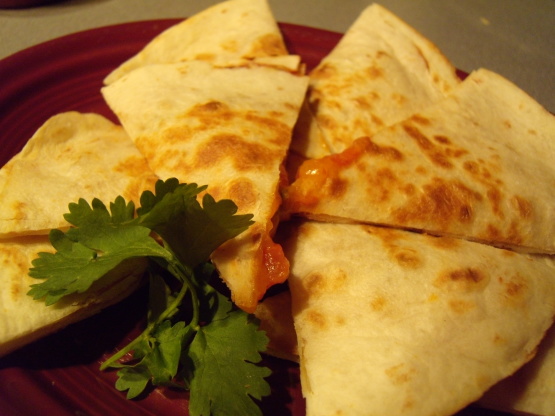 This makes a wonderful afternoon snack or appetizer.

This was a tasty, fast lunch. I also substituted salsa for the taco sauce.
Lightly spray a small frying pan with cooking spray.
Cook the diced vegetables in the pan for about 3 minutes. Remove from the heat & add the taco sauce.
Lightly spray another small frying pan with cooking spray.
Place 1 of the tortilla shells into the pan. Put a thin layer of cheese onto the shell.
Scatter the vegetable mixture over top of the cheese. Add another thin layer of cheese & cover with the second tortilla shell.
Cook on both sides until slightly brown.
Cut into quarters & serve hot.